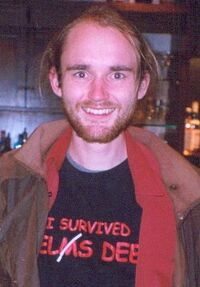 Ben Britton
(born January 6, 1978) is a New Zealand former production engineer for
Weta Digital
, actor, and teacher of English in Jinan, China who worked on his job for the first two films of the
The Lord of the Rings
trilogy and played as various characters in the films as well.
Filmography
Edit
Behind the scenes
Edit
Britton's character in the film was called "Fereveldir" in a fan site, but it was not an official name.
Britton's two favorite fantasy authors are J.R.R. Tolkien (the writer of the books) and Terry Pratchett.
Britton's favorite Lord of the Rings actor is Andy Serkis.
Before filming, Britton had read the original Lord of the Rings books including The Silmarillion.
Britton was rumored to be the Elf corpse in the Dead Marshes in The Two Towers, but the actor was identified to be Allan Smith.
Notes and references
Edit
Extras' Wrap Party, August 2003
Edit
Merchandise
Edit
Miscellaneous
Edit